Downtown Ottawa Garage Door Service
Best Garage Door Company
Whether your garage door opens can be operated manually or through an automatic mechanism, the rules of servicing remain the same : at the very least, have the door inspected by a competant technician, and make sure you engage a reliable company that provides an honest assessment.
Local Garage Door Service
Our Downtown Ottawa garage door service ticks all the right boxes, saving you inconvenience and money, while assuring you a positive experience.
Local residents rate our mobile service highly on response time, quality of workmanship and professional attitude.
Importance of annual or bi-annual Downtown Ottawa garage door service
Timely diagnosis of issues that need immediate fixing

No risk of garage door failure and crash

Simple replacements and tune-ups save money in the long run

Weather stripping garage doors improves the energy efficiency of your garage

You can enjoy peace of mind knowing that your garage door is effectively safeguarding your vehicle
Garage door servicing
Garage door servicing involves a number of inspections and is always accompanied by expert diagnosis when issues are spotted.
Our technician will perform a visual inspection, a door balance test, reversing mechanism test and force setting test.
Lubrication of hinges, rollers and tracks are also included in the service plan.
Garage door tune-up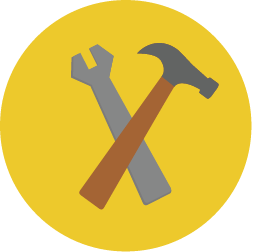 A garage door tune-up is recommended once every six months.
They can reveal worn-out parts, misaligned tracks, and other issues for timely fixes and installations.
A scheduled tune-up is the easiest way to extend the life of your garage door, and avoid any unexpected breakdown that may require emergency service.
Book your appointment today
Call us at (613) 627-3028 or book your appointment today. We look forward to serving your needs.