Ottawa Garage Door > Service Areas > East Ottawa Garage Door
East Ottawa Garage Door Service
Best Garage Door Repair
---
Our East Ottawa garage door service keeps your residential or commercial garage door functioning smoothly and safely.
Preventive maintenance can extend the life of your door and help diagnose problems in time before they cause emergencies or mishaps.
---
What does garage door servicing look like?
It is natural for garage door springs to break from continuous usage.
Our technician will check for balance by disconnecting door springs and lifting up the door.
If the springs break or you hear metal screech sounds, new installation will be necessary.
If the garage door cable is frayed or broken, expect a bit of installation-related downtime.
We accomplish this task in the quickest time.
Garage door track bent out of shape? Our technician can get it back on track.
Though this may seem simple enough, you definitely need the right mallet and a gentle touch to restore its shape.
Misaligned sensors call for the expertise of a garage door repair technician.
After the fix, we check to confirm that your door is working properly.
The door's springs, hinges and bearings will need to be lubricated. The right non silicon based lubricant is used and care is taken to ensure that the oil doesn't come in contact with the nylon rollers.
---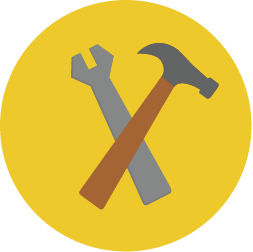 Flat rates, mobile service, accurate diagnosis and unfaultable workmanship has made us the preferred East Ottawa garage door service. 
Schedule your appointment
Contact us at (613) 627-3028 for more details, get a quick no-obligation quote, or schedule your appointment with us today.