Ottawa Garage Door Service
Garage Door Repair Service
A malfunctioning garage door can put you in a tricky situation by either preventing access or compromising with security.
It is in your best interest to have your door checked out and expedite repair or replacement.
Here's where you'll appreciate our mobile Ottawa garage door service. We are proud to be the premier choice of home and business owners in the capital.
Preventive garage door maintenance for commercial establishments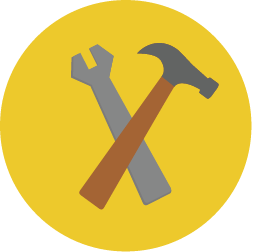 Commercial garage doors work all through the day and therefore suffer more wear and tear than their residential counterparts.
Since they are an important asset to your business and used by employees or guests, any attended issues may affect your reputation – or worse – give rise to liability concerns.
Scheduled semi-annual maintenance and servicing is essential to ensure the smooth, safe functioning of your garage doors and effectively adress any potential risk.
A look at our Ottawa garage door service
We conduct a thorough check of your garage door and its components to check for bent rollers, misaligned tracks, and broken torsion springs. If you haven't had your garage door serviced in a long time, chances are that your motor may be approaching the end of its life, garage door tracks may have warped from repeated use, or torsion springs accumulated rust or suffered damage.
Our expert technicians repair what needs to be fixed, don't recommend unnecessary replacements, and share useful maintenance tips.
Garage Door Professionals
Our workmanship is flawless and we exercise all best practices of safety during repairs and installations.
There is no make, model or brand of garage doors or door openers that we cannot fix.
Talk to us at (613) 627-3028 or schedule your appointment today.