West Ottawa Garage Door Repair
Same Day Garage Door Service
Welcome to our mobile West Ottawa garage door repair service – our vans are raring to get to your premises where qualified technicians will diagnose the underlying reason for the problem and fix it flawlessly.
We are the #1 choice of home owners, commercial business owners, and property managers seeking quality workmanship, timely service, and competitive prices. 
Repair or replacement?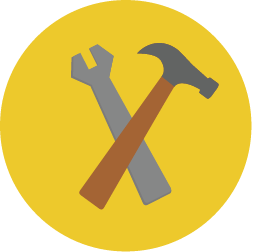 We are often asked how we decide between repair and replacement, and we understand why.
A new installations can be more expensive than a repair, but in some cases, it is necessary to avert safety hazards and ensure the smooth functioning of your garage door.
Rest assured, we only repair what needs fixing, and never suggest replacement unless it is required.
Consider the following factors to decide between West Ottawa garage door repair or replacement:
Replacement is recommended when (a) the door has suffered substantial cosmetic damage such as chips and cracks from long-term usage and (b) the door panel, door opener, track or spring mechanisms have completely worn out.
Repair is usually performed when (a) door is not balanced properly owing to inadequate tension in springs or a lack of lubrication of mechanical parts and (b) the door panel has a few scratches or a dent.
---
It is best to have a technician from Ottawa Garage Door investigate your garage door thoroughly and follow-through with the best fixes or new installations.
Talk to us today
Have a question for us? Want to book your West Ottawa garage door repair at a time convenient to you? Call us at (613) 627-3028 and nip your garage door problem in the bud!